Have you lost a tooth? When missing one or more teeth, dental implants are the solution.
What types of implants? Depending on the cause, the surgeon may consider using a resource such as a single dental implant, fixed bridges over teeth, or a removable denture.
Your dentist will base this decision, for instance, if you need to restore an edentulous arch and anchor a complete denture. Learn more ahead.
Dental Implants
The first option to replace missing teeth is to place a dental implant.
A unitary dental implant maintains the bone's health. This solution prevents using other teeth as abutments for a bridge.
The treatment consists of two stages.
Surgery to place the implant in the bone, it will act as a root.
Then, placing a connecting abutment on top of the implant. A screwed dental crown follows to support the prosthesis.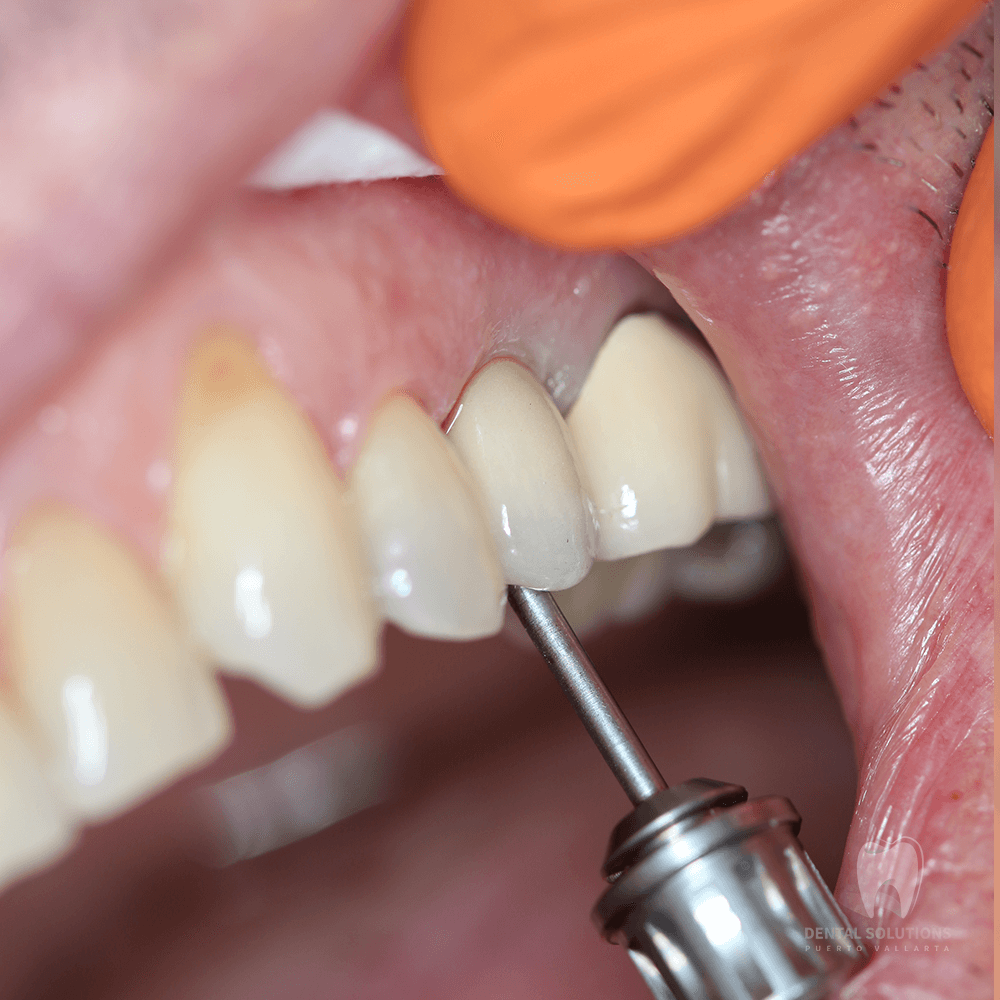 | | | |
| --- | --- | --- |
| Benefits | Sensations | Observations |
| Personalized Crown. | The difference between real teeth is imperceptible. | A maxillofacial surgeon or implantologist can perform it. |
Implants to support a fixed bridge
Considering more teeth lost, placing a series of dental implants can support a dental bridge. Then, a series of bridges over the implants will replace an entire dental arch.
https://www.instagram.com/p/B1JmMFkHUfh/
| | | |
| --- | --- | --- |
| Benefits | Sensations | Observations |
| Looks natural and the patient has a better ability to speak and to smile. | The patient will bite and chew almost as similarly as their actual teeth. | Solution when multiple teeth in a row are missing. |
Total prosthesis screwed on implants
There also exists the option to screw a prosthesis over the implants.
Implants can either support a complete set of teeth or a bridge to restore the entire arch. This treatment doesn't need to cover the palate; in other words, it is more comfortable to use compared to conventional dentures.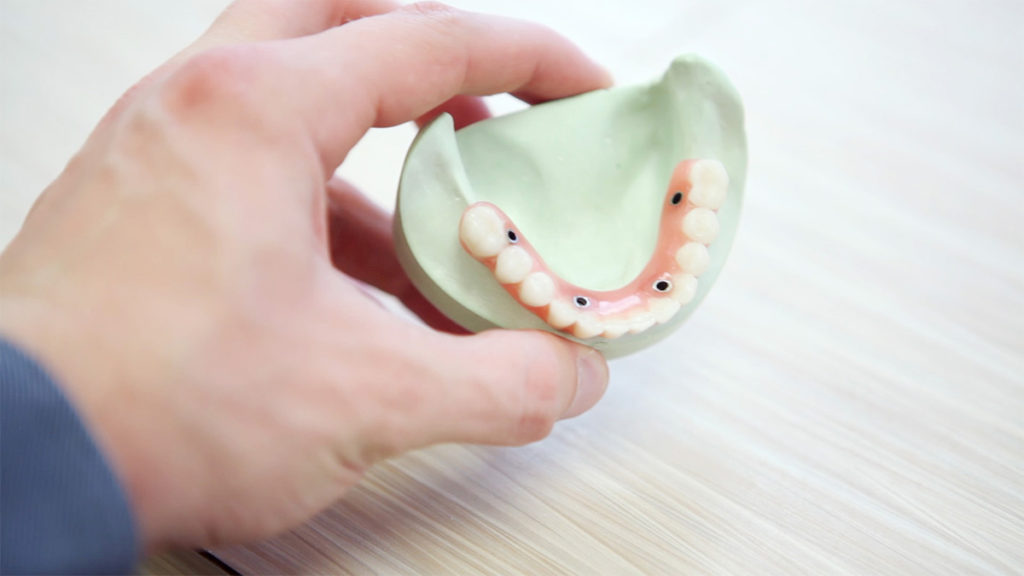 | | | |
| --- | --- | --- |
| Benefits | Sensations | Observations |
| In case of an inconvenience, a dentist can unscrew the prosthesis later. | Reduction of occlusal force. | Its aesthetic and safe. |
Removable prosthesis.- Fitted dentures with snaps on implants
A removable solution for the patient is to anchor a full snap-on denture to implants. It comes with male-female attachments, allowing them to place it at will.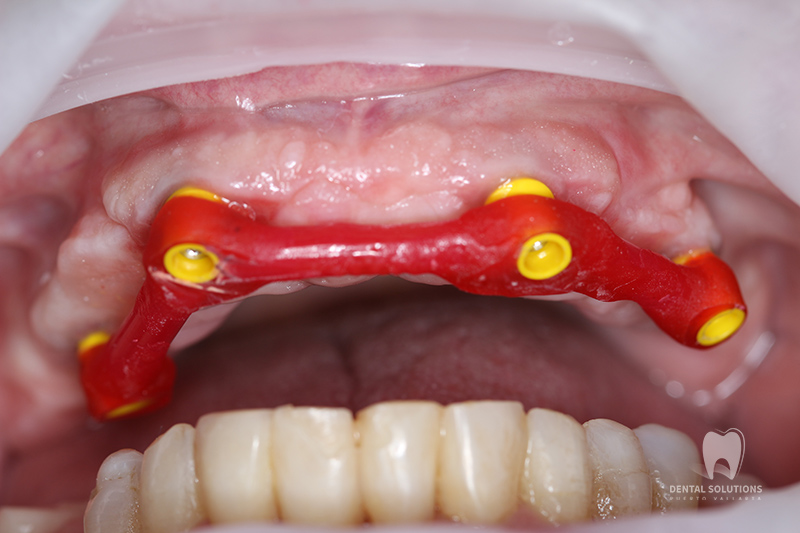 | | | |
| --- | --- | --- |
| Benefits | Sensations | Observations |
| The denture remains in place without adhesives. | Ability to eat moderately (40 to 60%). | Part of the palate can be partially removed from the prosthesis. Lower cost than a fixed bridge over implants. |
Stabilization of the current denture
If you are currently using dentures, it is possible to place a series of implants in your arch. After that, your dentist will adjust your current dentures with the implants to fit them together for extra support.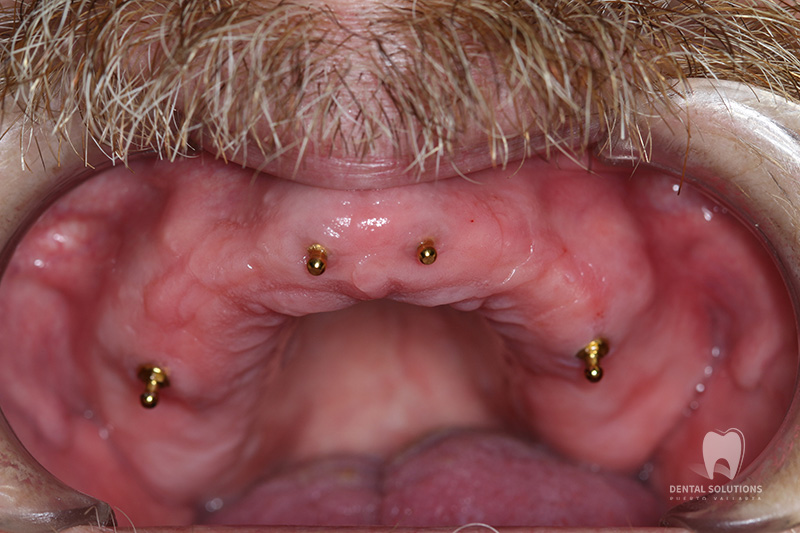 | | | |
| --- | --- | --- |
| Benefits | Sensations | Observations |
| An affordable solution in addition to new fixed teeth. Four to six implants to support the existing prosthesis or the preparation of a new one. | Better ability to eat, speak, and feel food. | Natural appearance. |
Mini dental implants
Mini dental implants are an excellent option for patients with atrophic lower jaw or mandible, meaning they have very little bone; immediately after placing the implants, these can be activated with ball attachments, thus improving the stability and handling of the prosthesis.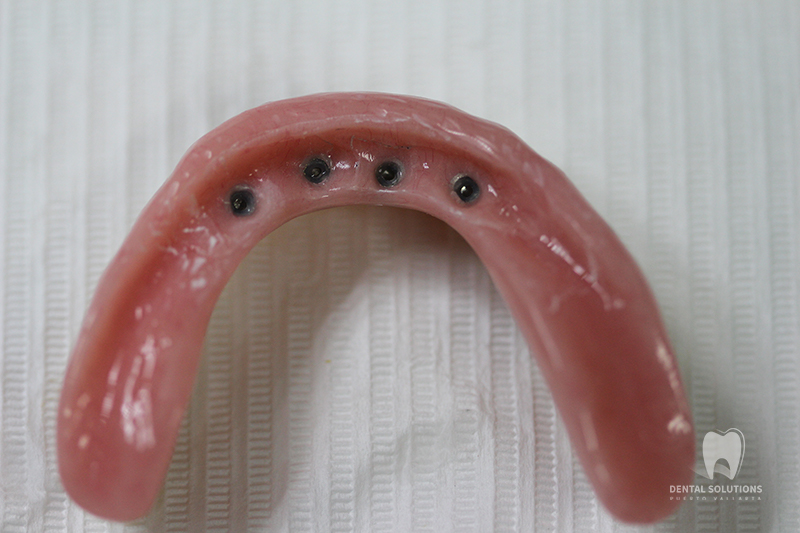 CEREC crowns & bridges
State-of-the-art digital dentistry allows us at Dental Solutions Puerto Vallarta to make restorations more comfortable, accurate, and fast.
We have invested in innovative technology of Computer-Aided Design and Manufacturing (CAD/CAM). Our new system known as CEREC accelerates placing some types of implants.
Ultimately, visiting our dental office is the first step to discuss what is best for your oral health. Request an appointment.