Probably you may be wondering, "how to make my teeth white?". A white smile is one of the most noticeable aspects of someone's face. We'll try to break down all the options in this article.
Prevention: What can stain your smile?
To prevent your smile from becoming the infamous yellowish color, you must avoid consuming certain foods and beverages, especially sweets and acidic.
Moderate on coffee, infusions, wine, and please avoid cigarettes. Now could be a good time to quit smoking. Tobacco not only makes your teeth look bad, but it also makes you develop diseases such as oral cancer and other 15 cancers that affect your whole body!
White teeth at home
Some foods are famous for being nutritious and helpful in having good dental hygiene. Apples and celery are great examples. Add them to your diet!
The next step is to follow a strict hygiene routine that includes flossing and brushing daily. For this purpose, you can choose a special dental paste to whiten your teeth. Whatever you do, please avoid remedies like lemon and bicarbonate since it is an abrasive mix that will hurt your teeth' enamel.
The true colors of a smile
Curiously, we say white teeth. In reality, they are not white-white. We also call them pearly whites, which characteristics might be a little similar to a tooth. Pearls are iridescent, beautiful, creamy. Teeth have some qualities that pass inadvertently to the untrained eye: teeth have blue or yellow undertones and hues, they are translucent, they have a particular shape, and different densities. Good dentists are aware of this and can recommend the best option for you.
Professional white smile
Teeth whitening is a cosmetic treatment to improve your smile. There are several options, from office to home kits. In Dental Solutions Puerto Vallarta, we have Zoom Whitening, a durable solution that shows results from the first moment.
First: The doctor removes plaque and stains
Next: He evaluates current teeth shades
Finally: The doctor polishes and applies light-accelerated technology and gels
Cosmetic treatments to achieve white teeth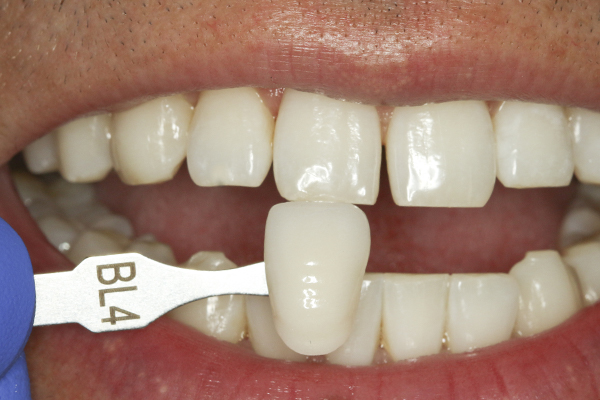 Dentists use a shade guide as a reference point for teeth comparison and to look for better results. The doctor determines which shade you currently have to create similar dental pieces or improve the color. Dr. Arturo always looks for aesthetic results. His design and fabrication of veneers, crowns, and prostheses have the quality of looking as natural as possible. Learn more about our Smile Design service.
If you would like to have a better-looking smile. Request an appointment here. We will be glad to help you.