World Oral Health Day reminds us annually to spread the word about oral diseases and the importance of overall health.
As ADA President Chad P. Gehani said: Dentistry is essential for health care. This is because it evaluates, diagnoses, prevents, or treats oral diseases that affect systemic health.
Definition of Oral Health
It is related to a person's ability to communicate, use their senses and eat. We mean how they make facial expressions such as smiling and speaking. Eating is not only chewing properly but even tasting and smelling too! The mouth is like a window to the digestive and respiratory systems, hence its importance for overall health.
World Oral Health Day 2023 campaign
The theme for 2021-2023 sends the message: Be Proud Of Your Mouth, which means value and take care of it. As the FDI World Dental Federation says on its website: "…an unhealthy mouth not only impacts general health but it can have a severe impact on people's emotional, social, mental, and overall physical well-being."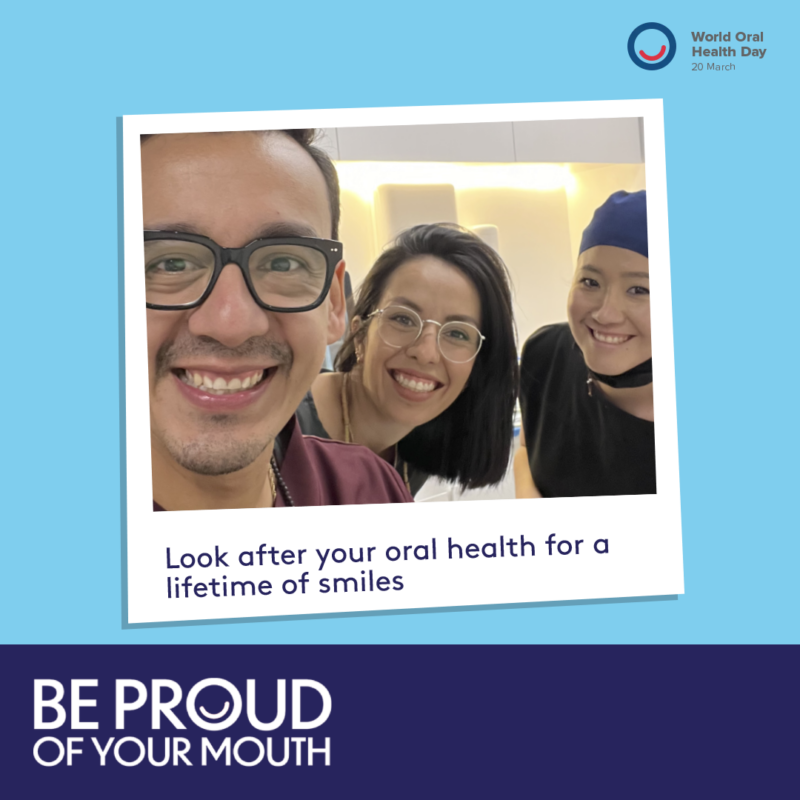 Previous campaigns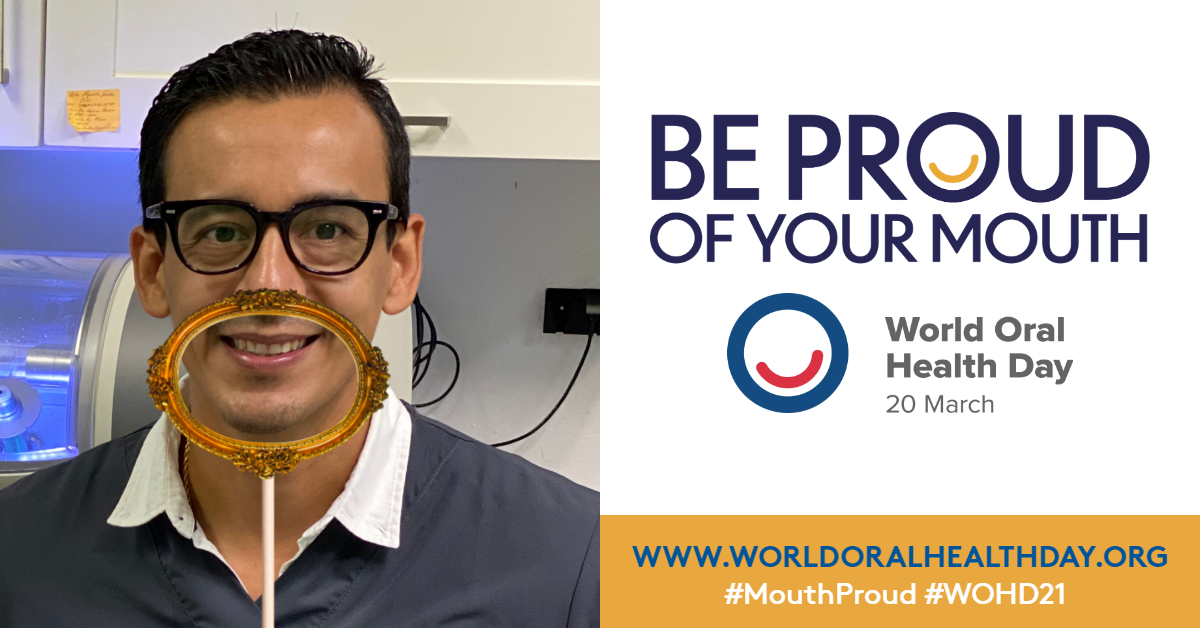 2022: The motto was: Be Proud of Your Mouth for your happiness and well-being.
2021: FDI's campaign focused on telling everyone that good oral health can help you live a longer, healthier life.
Oral Health and Preventive Dentistry
The three keys to a healthy mouth:
Good dental hygiene
Balanced diet
Dental checkups
We can summarize what you can do for individual care as regular visits to the doctor. While many can leave them for later, going for your regular medical checkups helps detect diseases early. Your health provider could find signs of oral cancer, for example. Learn more about a dentist's tasks.
Listen to the signals
Sometimes we assume that pain is normal. If your teeth hurt, go to revision.
You need as many teeth as you can!
Missing a tooth not only affects your aesthetic but your ability to eat or talk.
Dental Emergencies
Severe pain and traumas must be treated ASAP. Learn more about symptoms considered dental emergencies.
Dental Fear
Another reason to avoid visiting your dentist may be related to fear or anxiety. We understand it, so we have written an article to help you cope with dental anxiety.
Oral diseases
Tooth decay
Gum diseases
Cleft lip and palate
Oral and facial pain
Mouth and throat cancers
Dry mouth
The importance of early diagnosis
Oral diseases cause pain and discomfort, social isolation, and loss of self-confidence. Oral diseases are often linked to other serious health issues. However, there is no reason to suffer! Most oral health conditions are preventable, and with an early diagnosis, your oral health providers can treat them in their early stages. Follow our recommendations to prepare yourself for a dental appointment.
Did you know that digital dentistry can enhance preventive care? Preventive care is the first milestone in a long-lasting good oral health journey. Technology helps dentists explain to patients on their current situation and potential treatments – all in a timely manner.
History of the celebration
World Oral Health Day was first declared in 2007 and was initially celebrated on 12 September – the birth date of FDI founder Dr. Charles Godon. The campaign was fully activated until 2013, after the date was changed to 20 March to avoid overlapping with the FDI World Dental Congress.
The 3/20 in the new date symbolizes:
To consider seniors healthy they must have a total of 20 natural teeth.
Children should possess 20 baby teeth.
Healthy adults must have 32 teeth and 0 dental cavities.
In 2020, our whole world changed. Health care is in the spotlight more than ever, and everyone needs to recognize dental care as essential care.
What action are you taking to improve your mouth's health? Please share with us in the comments.